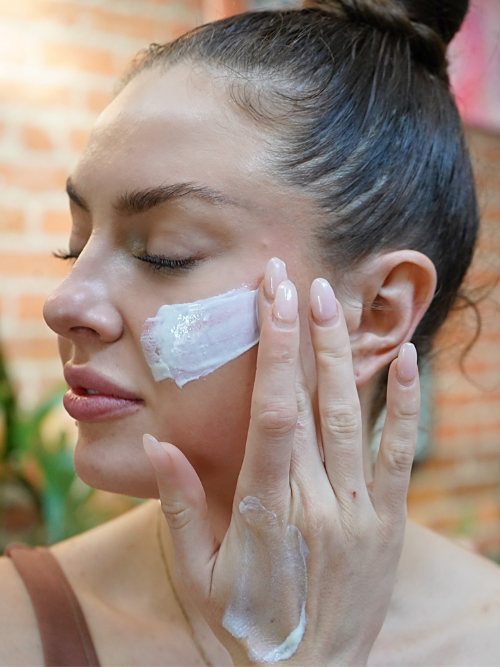 What sunscreen is best for the face?
We're all about sunscreen, but what about the face? What's the best face sunscreen? We've got you covered! In this blog post, we'll cover everything from SPF to ingredient lists to how to apply it.
We've all been there: you're out in the sun and you forget to apply sunscreen on your face. Then, when you get home, you feel a burning sensation on your cheeks and wonder if it's just a sunburn or if your skin is reacting to something else.
The best way to ensure that you're protecting your skin from the sun is by using face sunscreen that is specially formulated for the face.
We know that everyone's skin is different and has unique needs, but when it comes to sunscreen, it's hard to find a product that works for both your face and your body.
What to look for in a face sunscreen
It's no secret that sunscreen is one of the most important things you can do for your skin. It helps protect you from harmful UV rays and slows down the aging process by preventing wrinkles and other signs of aging. But finding the right face sunscreen can be tricky: there are so many options, and not all of them are created equal.
Here's what to look for in a face sunscreen:
Water resistance—Water-resistant sunscreens are best if you're going to be in water or sweating heavily during your outdoor activities. They stay on longer, which means they'll hold up through sweat as well as swimming, surfing, gardening, or whatever else you might be doing outdoors.
Broad-spectrum protection—This means that the sunscreen protects against both UVA and UVB rays, which can penetrate deep into your skin and cause damage over time (think wrinkles). Some sunscreens offer only one kind of protection, but broad-spectrum protection is always the best option when it comes to protecting your face from sun damage!
SPF Rating: The SPF rating tells you how much protection a sunscreen offers. You should look for sunscreen with an SPF rating of at least 30 or higher.
Antioxidants: Antioxidants like Tomato Fruit Extract, Vitamin C, or Vitamin E are often added to sunscreens as a second line of defense. Antioxidants help to neutralize free radicals and act as an extra boost of protection & skin-enhancing properties.


Iron oxides: Commonly used in makeup & skincare to add pigment, they also have the added benefit of increased protection from visible and blue light. If you are experiencing Hyperpigmentation, it is recommended to use a daily sunscreen with antioxidants & iron oxides, I would recommend Sunny Skin Glow Filter SPF50+.
The benefits of using sunscreen on your face
There are a few benefits of using sunscreen on your face:
Sunscreen is the best way to minimise premature ageing
It prevents wrinkles and premature aging by preventing free radicals from damaging collagen and elastin fibers in the skin.
Sunscreen prevents Sunburn
Most of the time sunburn or sun damage is incidental meaning you are not directly in the sun like when you are driving a car or sitting by a window. By wearing sunscreen daily you are also protected during these incidental events. 
Sunscreen reduces the risk of skin cancers
It helps prevent skin cancer by blocking harmful UV rays with zinc oxide or titanium oxide particles.
Face sunscreen ingredients to avoid
When choosing a sunscreen product, there are ingredients that you should avoid: 
     Fragrance heightens the inflammatory response during sun exposure stimulating melanocytes to produce melanin. 
     Oxybenzone(the chemical name for this active ingredient is benzophenone-3) because it has been linked to hormone disruption and may cause allergic reactions.
     Avobenzone is also a benzophenone
     Homosalate is another hormone disruptor
How to apply sunscreen correctly
It's important to apply sunscreen correctly so that you don't end up with an oily face or a white film.
Here are some tips for applying sunscreen correctly:
Start by using a tinted moisturizer, which will give you a base and also even out your skin tone, so you can skip the foundation step.

Apply sunscreen before your makeup because it can block certain ingredients in your makeup from absorbing into your skin.

 

Apply sunscreen liberally and evenly to ensure that all areas of your face are covered—even around the hairline and ears.

 I would go a step further and apply your face sunscreen to your decolletage, shoulders & tops of your hands. 

When outdoors make sure to reapply every two hours or after swimming or sweating heavily to maintain protection against harmful UV rays.
Recommended face sunscreens for people with sensitive skin - Sunny Skin Super Sun & Glow Filter SPF50
 Sunscreen is one of the most important products to have in your beauty routine, but finding one that works for your sensitive skin can be tough. The good news is there are a few sunscreens out there that are perfect for those with acne-prone skin and sensitive complexions.
Two of these products are Sunny Skin Super Sun & Glow Filter SPF50. These broad-spectrum face sunscreens provide SPF50+ PA++++ protection from UVA and UVB rays to keep you protected from sun damage while also offering environmental defense against blue light. It's safe for even the most sensitive of skin types, including acne-prone skin and those who suffer from rosacea or eczema. 
This sunscreen offers free from the top 8 allergens as well as fragrance, parabens, sulfates, gluten, phthalates, nanoparticles, and more which makes it a great choice for those with allergies or sensitive skin conditions like eczema. 
The Tomato Fruit extract not only contributes potent antioxidant properties but also diffuses redness and smooths the texture of your skin while also providing 4 hours of water and sweat resistance so you can wear it throughout the day without worrying about reapplying it often.